I made this box with black cardstock and in order to incorporate the die cut it was a 5 x 5 inches box but only 3.5 inches deep. Cut the card to 12 x 12 and then score the box at 3.5 inches on each edge so the sides of the box are 3.5 inches deep. The lid is a piece of card cut at a smidge over 8 x 8 inches - literally another 1/8th inch (this makes it slightly larger than the box so the lid fits over! Then score at 1.5 inches on each edge. Because of being this size it is not easy to put it through the big shot - unless you have an A4 sized one - so I had to fold over the box sides which leaves an impression on the lid - see photo
To get over this you have to cover with pretty designer series papers. I used the same paper that I used behind the box lid. You cut the paper for the edges at 4.5inches x 1.25 inches. Stick a square of paper behind the die cut image using dimensionals that is 4.75 x 4.75 inches. This creates a recessed lid aperture.
Make sure you pull up all of the tiny petals around the outside of the die cut to maximise the colours under showing through at the top of the box. This is a fabulous die cut and is one of the co-ordinating products available to purchase from the 4th February. It co-ordinates with the Sending you Thoughts stamp set that is available on page 11 of the Sale-a-bration catalogue (not featured in this project but will be in tomorrows project).
This image is of those lovely papers! The one I used is right at the bottom of the pile and is the back of the flowered one! So you get two sheets of it in the packet. The photo is showing each side of the paper as it is double sided.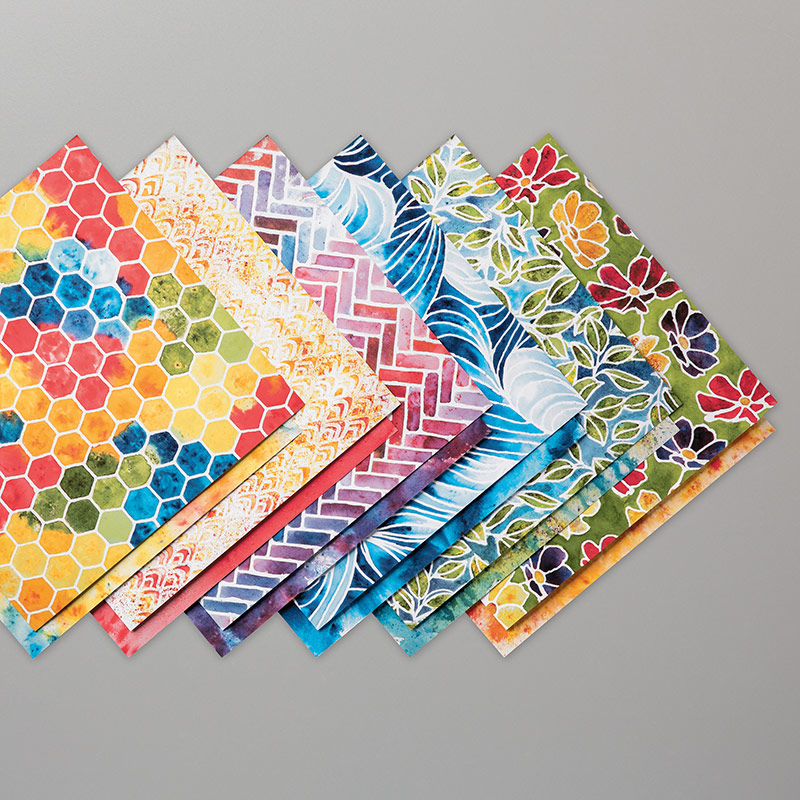 The lovely marbled look paper is from the designer series paper called See a Silhouette and I love the vibrancy of the colours in the papers in this set of paper which I used - a lot! I was feeling so chilly when I made this that I put the fire on and took advantage of a photo opportunity! - I did only leave it on top of the log burner for a second or two though as I didn't want to set everything on fire!!
The rest of the afternoon was spent knitting in front of the fire - isn't that what getting through January is all about?
JoPx