I just bought the suite with this stamp set from the main catalogue I have been wanting it for ages and ages mainly because it has a die of a dandelion and I love dandelions they are my 'thing!' but I won't buy a stamp set until I know lots and lots of ways I can use it so I have only just got this and following the success of the Birthday Bonanza suite (and I still have lots more posts with this set to show you) the suite works for me really well. So I bought the dies along with stamp set, glitter embossing powder in white and black, co-ordinating papers , ribbon and it also came with some really cute mini bulldog clips which I have used in a couple of posts this week.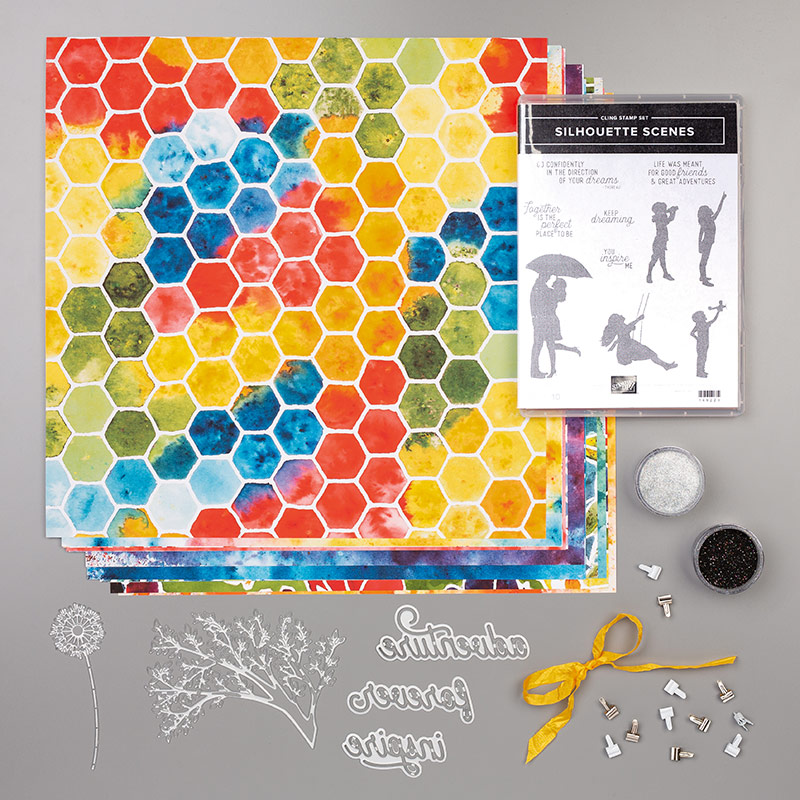 I will use this set and do a whole week of it later, but for now I am concentrating on blogging valentines and mothers day and Easter - so many events coming along to enjoy!
This card I used watercolour paper which is quite bumpy and thick. I spritzed it all over with water and then sprinkled on some 'pigment sprinkles' and you can see by the effect that they have really strong pigments in them. I used three colours: melon mambo, gorgeous grape and mango melody. I did a whole sheet of watercolour paper in one go and another day will show off the other two cards I made using it. Have a paper towel handy to mop up the excess and then dry overnight or with a heat gun. I left mine on the window cill for the night.
I used the silhouette image and the sentiment from the silhouette scenes stamp set and memento black ink. I also used my Stamparatus because the card is so bumpy it needs a couple of times stamping right on top of the other to get a lovely black silhouette. This is achievable with the Stamparatus, or if you have one still a stamp-a-ma-jig.
I considered using the shimmery crystal effects to make raindrops but I really like the card as it is. It is a larger card than usual and I may need to make an envelope myself to fit it as its not conventional size, but you can make it any size you like.
Makes a great Valentines!
JoPx