Today I am using the Lion image from the fabulous Bonanza Buddies Stamp set and matching dies with which I created a very large box, a card and a tag.The box was made by cutting large pieces of card and taping them together to fit the lid which was the biggest box lid I could make using A4 card! I was aiming for some big pieces for my open hall event to promote the new Spring/Summer mini catalogue - or not so mini!! Sale-a-bration launches at the same time and Both catalogues are winging their way to my current customer base. If you are new to my website and interested in a catalogue please be sure to drop me a line and I will be delighted to send you one if you live in the UK. IF you live in Austria, Germany, France or Netherlands you can also order from me and the catalogues are on my shop - follow the link on my SHOP page above or to the side panel.
The card background has been embossed with a new embossing folder in the new mini called 'coastal weave. Im not sure it is coastal but I liked the woven basket look and thought it could look good later on some Easter projects.
The images on the stamp set are very circus oriented as the lions are piled up like acrobats and I also put some designer series paper panel at the bottom of the card and three white card panels to layer the card up a bit more.
This set really does have it all and I was describing the stamp set pieces and the dies on my blog yesterday so I decided to put a photo in today to show all of the elements. Also I forgot to mention that the tall present could also be used as a candle and the pennant stamped as an ice cream cone with the balloon image as icecream scooped on the top!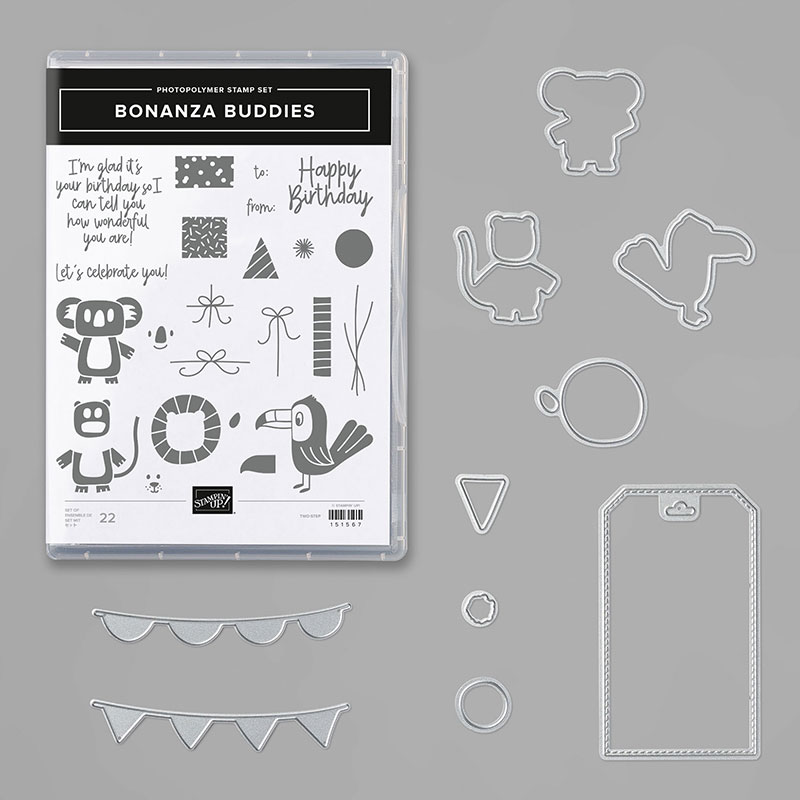 If you see anything else in the images be sure to leave a comment !
Tomorrow its the toucan's turn to showcase his card, bag and tag!!