x
I really like the Birthday Bonanza Stamp set and having dies to match is a bonus! The dies don't just cut out the little animals. There is a lion, a toucan and a Koala in this set! They also cut out some banners as you can see in this photo, and a tag which is really handy for cards and tags. I used the tag die to cut the aperture in this shaker card. I cut out the 'Happy Birthday' greeting by hand - I just followed the curves of the sentiment.
If you spend £45.00 during Sale-a-bration you can choose something from the Sale-a-bration offering for FREE and I chose the Metallic Bakers Twine and Sequins Combo Pack to go with this set. The sequins are striped and in blue, yellow and orange and so they go really well and the bakers twine is sparkly in blue and yellow. The sequins are my shaker 'fodder' in this card.
The best image in the Birthday Bonanza set has to be the tiniest one - which is the little fluff ball or star image. You can see it on this card in the background of the card. I used it so many times - on top of party hats, as a candle flame and on top of presents. There is the tiniest die to cut it out as well!
To make this card I cut a card mat in Melon Mango and cut the tag shape from the die set out of the card mat. Keep the tag as you can use it inside the card as I have done below! (Or have it as a matching tag for your present). I placed the card mat onto the base card which is a folded piece of daffodil delight cardstock and I very lightly marked through the tag shape. The I outlined the pencilled shape with some foam adhesive strips about 1cm larger than the pencilled outline. Make sure there are no gaps around the edge. I taped (with tear and tape) some acetate to the back of the card mat. I stamped the background with the 'fluff' image in three different colours to co-ordinate with the papers and card in this set. Then I peeled off the top layer of sticky from the foam strips and carefully filled the label shape with sequins. You have to be careful they don't stick to the sticky top of the foam tape. Then line up the photo mat and secure on top of the foam tape. Then you can decorate the card. I used a couple of the banners cut in plain card and in some of the designer series paper that matches this Birthday Bonanza set and I put a small hole in the greeting to add a little bow in the sparkle bakers twine.
I stamped the Koalas - this set is two-step stamping, which means you stamp the body of the Koala first and then you can add in a darker colour - I used black - the face features. You can see by my Koala images that these change every time you stamp, as you are not always going to stamp down in exactly the same place for each one (unless you are using the Stamparatus) So some of the eyes in my images are looking to the right or left which is rather sweet.
There are some great sentiments in this set it really has it all! I stamped the tag piece with this sentiment and added couple more of those sequins. I use tombow glue but you can also use mini glue dots. I love that the die cut tag is also already embossed with a stitched border and a hole.
I have made a matching long bag to go with the card and I made this using the designer series paper in this set also called Birthday Bonanza and the Suite also comes with matching ribbon and assorted pom poms - so you can glue a pom pom on top of the Koalas hat for added dimension. You can make the gift bag using the gift bag punch board if you have one but Stampin Up no longer sell this item so an alternative is to take a book roughly the same size you want the bag (or pile of books) and wrap one end across the book just like a parcel. Add strips of paper for handles to the outside. I used the reverse side of the paper 1inch wide to make two long handles 12inches long each. For the tag I stamped a whole bunch of balloons and then cut a couple more to pop up on dimensions.
IF you have spotted the Birthday Bonanza Suite on pages 32 to 34 of the Spring mini catalogue you will notice that there are also some printed gusseted cellophane bags that have the 'fluff' image on them - actually I think they are calling the image 'confetti' not 'fluff' !!! In any case you can see from the photo above that the bags are really lush and make great party bags. You can just have them plain and stuffed with party cake or sweets or you can insert a piece of the co-ordinating designer series paper as I have here to the back of the bag. I added another tag with the Koala.
And last, a more fancy tag that you could use on a present. This stamp set has so many images in it that it is easy to miss some of them. I chose it because it is so versatile and great for parties, kids and will also work with cards for men. There are the three animals as mentioned above with features for faces (which could be used in flower centres for example) I might post something on Instagram with that idea!! There are also three present shapes with bows and a balloon shape with a string. In addition there are some sentiments including a 'to' and 'from' for the tagged there is a striped party hat - which could also be used as a banner. I used it as a flag in three of my tags I recently put onto Instagram. And of course ........ the 'FLUFF!!!' I mean 'confetti piece'. Haha! So lots of pieces that you can use with other stamp sets or on their own for cards, tags or scrapbooks.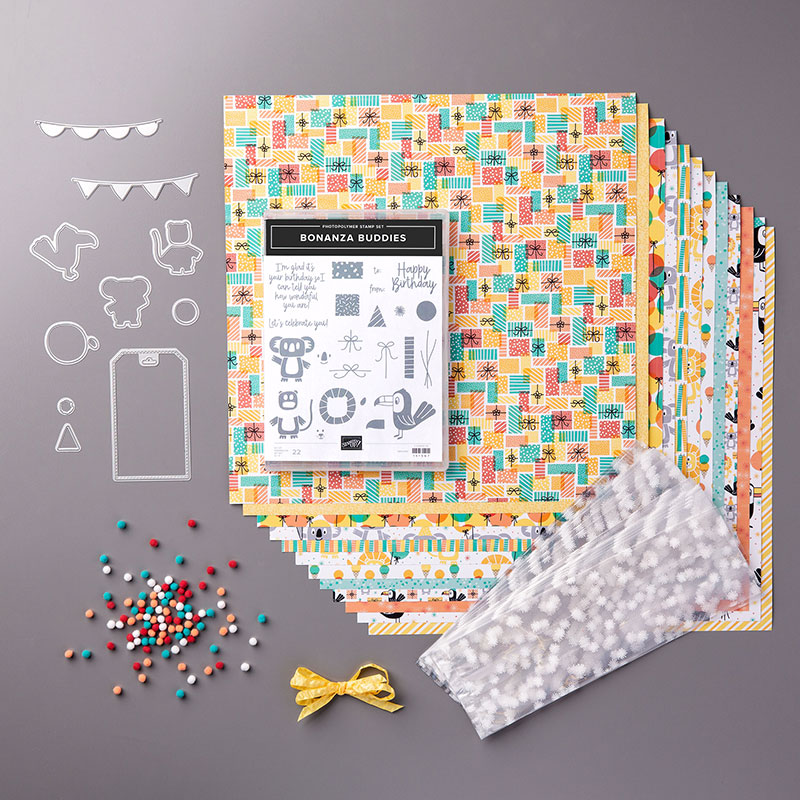 I liked the Bonanza Buddies products so much I bought the entire Suite with stamp set, matching dies, designer series paper, ribbon, cellophane bags, and pom poms. I have made so much with it and frankly if I wasn't a demonstrator it would probably last me for a years worth of birthday cards and wrapping, or a good sized birthday party with some left over to scrapbook the photographs. If you have a die cutting machine and children/granchildren I would highly recommend it to you. More to come from this suite soon. P.S some of the images on the designer series paper can also be cut out using the animal die outlines. Keep in touch to see how else I have utilised this stamp set. It will be appearing on this blog - a lot!
If you would like to buy all or any of the products in this suite please contact me or jump to my SHOP which is on the SHOP link in the top bar and the side bar, I would really value your custom. xx
The suite can be found on code 153929 for £65.25 and this would also qualify you for a free Sale-a-bration item so you could also get the twine and sequins. However if you want individual items then just type bonanza into the search or if you have a catalogue go look on page 32 to 34 for items code numbers. I can't work out how to have the little picture things on my blog below like some demonstrators but you can email and I can put an order in on your behalf directly online and do take card payments. craftyjop@gmail.com
Koalas are very on trend and so it is particularly tragic that they have had even more press following the devastating fires in Australia. I am making some knitted pouches with my knitting group but there are also patterns for crochet and sewing for pouches for all the little creatures now with no homes either as rescue pouches or nests. There is a group with all of the patterns as well as a facebook group. You may also be part of a knitting group making some of these. I googled making pouches for animals in Australia fires and found the page. So if you want to join in you can do the same as all of the information is there. It is lovely to see on the facebook group people from all different countries being part of this effort.
JoP xx